The Board of Directors of Roshan Cultural Heritage Institute proudly wishes to announce that its Chair and President, Dr. Elahé Omidyar Mir-Djalali, has been bestowed upon one of France's most distinguished titles, that of Knight in the French Order of Arts and Letters, known in French as Chevalier de l'ordre des Arts et des Lettres.
Given by the French Ministry of Culture, the award recognizes eminent artists and writers, and those who have contributed significantly to furthering the arts and culture in France and throughout the world. Our Chair and President could not be more deserving of the title. As a linguist, scholar, and most generous philanthropist, Dr. Mir-Djalali has dedicated (and continues to dedicate) her long and distinguished career to improving communication and cultural understanding across borders, focusing her efforts specifically to bringing to light the richness and diversity of Persian culture to audiences in France and around the world.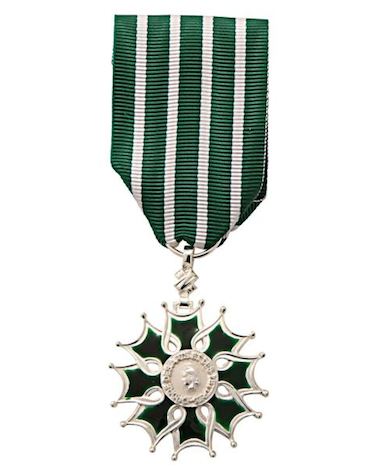 Dr. Mir-Djalali has been sharing her knowledge of—and passion for—Persian language and culture ever since completing her Ph.D. in Linguistics at the Sorbonne, Université de Paris, where her dissertation, Transformational Structure of the Verb in Persian, was awarded Honorable mention. Her academic skills led her to teaching at Georgetown University and the University of California at Berkeley, while her interest in Persian mystical and educational poetry and prose resulted in 15 years of volunteered work translating texts of Sufi masters, from Persian into French and English.
But, beyond these already laudable accomplishments, Dr. Mir-Djalali has established herself as a most brilliant—and generous—philanthropist since founding in 2000 Roshan Cultural Heritage Institute, a private foundation dedicated to promoting the preservation, transmission and instruction of Persian language and culture around the world. Under her leadership and extraordinary vision, Roshan Cultural Heritage Institute has provided countless endowments, grants and fellowships in support of Persian-related educational and cultural activities, as demonstrated on this website.
Her strong professional and personal link to France led to the gift of a significant endowment to the prestigious Musée du Louvre in 2011 for the establishment of the Elahé Omidyar Mir-Djalali Fund—the first endowed fund within the Louvre Endowment Fund—to underwrite educational programs relating to Persian art and culture. Many of the programs supported by the Elahé Omidyar Mir-Djalali Fund recall the deep cultural ties that have linked France and Iran for centuries, as was most recently revealed through the hugely successful exhibition, The Rose Empire, on the magnificent art of the Qajar dynasty that took place earlier this year at the Louvre-Lens Museum.
It is in recognition of this unwavering advocacy and contribution to the promotion of the arts and culture that the Louvre selected Dr. Mir-Djalali to receive the honorific title and medal of Chevalier de l'ordre des Arts et des Lettres.
"I am proud to have been the initiator of the first endowment fund in support of educational and cultural programs at that grand Institution," said Dr. Mir-Djalali upon learning from the Musée du Louvre of the award bestowed upon her. "It is delightful to see that the efforts of everyone involved are being recognized symbolically by awarding me the Chevalier medal."
Please join the Board and Staff of Roshan Cultural Heritage Institute in congratulating their Chair and President for this most deserving honor.