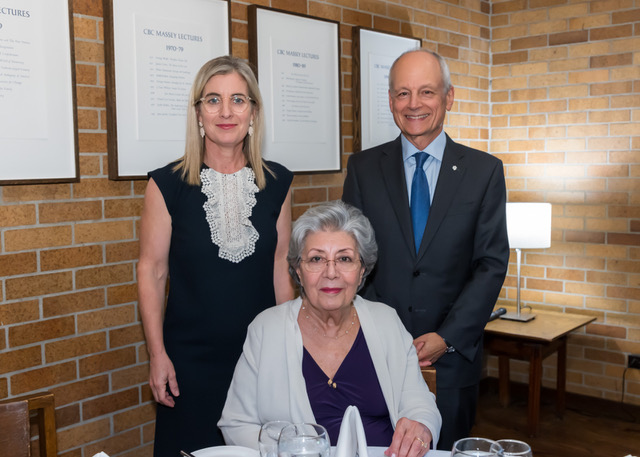 Roshan Cultural Heritage Institute is delighted to share some pictures from the memorable evening of September 21st, where the Institute's Founder and President, Dr. Elahe Omidyar Mir-Djalali, along with Mr. Arya Mir-Djalali, the Institute's Director of Technology and University Relations, attended a dinner event to celebrate the establishment of the EOM Institute of Iranian Studies at the University of Toronto. 
It was a cheerful and enjoyable event initiated by the University's President Meric Gertler and Melanie Woodin, Dean of Arts & Science. The first Director of the EOM Institute, Mohamad Tavakoli-Targhi was also in attendance with a group of highly recognized Iranian scholars. When Dr. Mir made her remarks, she stated, "In today's complex global landscape, it is essential to address the misrepresentations of Iran and Persian culture. This has been my personal mission, and I have dedicated the last 25 years of my life to support the development of cultural and educational activities at various institutions of higher education in the US and around the world".  This was an exceptional evening where everyone built more profound connections with one another in support of promoting and preserving Persian culture.
In June 2020, Roshan Cultural Heritage Institute endowed US$6 million to establish the EOM Institute of Iranian Studies at the University of Toronto, which is an academic hub offering a Postdoctoral Fellowship, Dissertation Completion Fellowships, Graduate Scholarships, Lecture Series and Conferences, a Scholar Award program and Cultural Program celebrating Persian-related annual events.